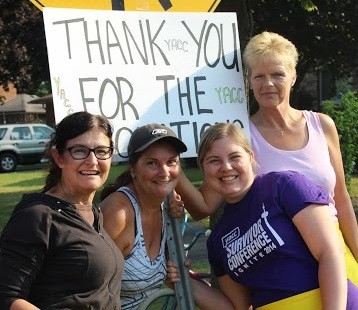 Samantha McCauley was surrounded with love and support from her boyfriend, parents, family, and friends when she was diagnosed with Hodgkin's lymphoma two years ago, but she still felt isolated.
"I convinced myself that all I had to do was get across the chemo finish line and then everything would go back to normal," said McCauley. "When I did finish treatment, it became clear that you can't just flip a switch and go back to your pre-cancer life, or your pre-cancer self. Thankfully I found YACC and they helped me figure everything out."
McCauley now has two Survivor Conferences under her belt, and a conversation with Geoff Eaton, YACC's founder and executive director, at the most recent event in June inspired her to do something to help her cancer peers. He told her about Shop for the Brave , a yard sale-style event initiated by fellow YACCer Sonia Lafreniere.
"That conversation really provided the spark I needed. I'd been kicking around the idea of having some kind of fundraiser for a while but, before talking with Geoff, I just wasn't sure what I wanted to do," said McCauley. "I really liked the idea of a yard sale because it seemed easy enough to plan for a person who has never hosted a fundraiser before."
Not surprisingly, McCauley's community jumped in to help her with the logistics. Her mother and aunt (a regular yard sale organizer) became consultants, sorting and pricing the donations. Her boyfriend, father, and uncle helped pick up truckloads of donations. More family came over to help set up for the day, which still took an hour and a half as they hauled everything out of McCauley's basement and garage to get ready for a 7 a.m. start.
She promoted the event with her local paper, the Welland Tribune; a Facebook event; and regular yard sale hot spots like Kijiji, and word definitely spread.
"The event was more successful than I ever could have dreamed. One of my neighbours said that she'd never seen so many cars on our street, and a coworker of mine who stopped by joked that he turned the corner and thought, 'There's no way all of these cars are for the yard sale,' but they were," said McCauley.
The event on August 9, 2014 raised $3,135, which was a total McCauley didn't dream of hitting. While the event required more work than expected, she hasn't ruled out another one in the future, and is already kicking around other ideas in the meantime.
"It made me feel awesome," she said. "It's so nice to be able to give something back, to be able to show YACC how much they, and the work they do, mean to me… As they always say at YACC, they've 'got my back,' and I just really wanted them to know that I've got theirs, too."
Despite feeling her life is "very much back on track" and getting ready to move on from her personal experiences, McCauley admits she still thinks about cancer every day, though the memories no longer come with the emotions they once did.
She said, "Cancer, simply, is part of the way I define myself now. As corny as it sounds, I think it's given me an appreciation for life that I wouldn't have had otherwise."